Rockville "Rox" Alumni - Rockville, Indiana
Classes of 1865 - 2023
Alumni Killed in Action
You were only one person to the entire world,
but you were the entire world to us.
This Memorial Section is dedicated to our friends and fellow RHS classmates, alumni and brothers in uniform who made the ultimate sacrifice for our freedoms, our rights, and our peaceful way of life. We play "Taps" in their Honor, and we erect these monuments forever memorializing their names as proof that we shall never forget them nor their sacrifices.
Parke County Court House
War Memorials
WORLD WAR I
Parke County Court House Memorial Dedicated To
William Owen Isham World War I, Adams Township
Issac Carl Thompson World War I, Adams Township
WORLD WAR II
In order of their graduating class
Clay Thomas Class of 1931 World War II Oct 9, 1944
John Havey Class of 1934 World War II July 23,1945
Paul J. Taylor Class of 1935 World War II Aug 9,1942
Homer Arnold Jr. Class of 1935 World War II Feb 22, 1944
Charles Bell Class of 1936 World War II June 26, 1943
Richard H. Smith Class of 1937 World War II February 10, 1945
Fred Smith Class of 1938 World War II January 26, 1945
Richard Graham Class of 1940 World War II July 12, 1944
Malcolm Gross Class of 1943 World War II Mar 17, 1945
The Parke County VFW Post is named after Paul J. Taylor who was lost in 1942 at the Battle of Savo Island and is the first war casualty submitted as lost in WWII from Parke County. Paul was in the Navy. Additional information including his service picture and ship information is available at the post and on Google under USS Vincennes Savo Sea.
USS Vincennes (CA-44) was a United States NavyNew Orleans-classheavy cruiser sunk on Aug 8, 1942 at the Battle of Savo Island. She was the second ship to bear the name.
Korean War

Parke County Court House Memorial Dedicated To
Robert L. Ross, Class of 1949, Korean War, June 10, 1952
Robert L. Ross RHS 1949
Viet Nam War

Parke County Court House Memorial Dedicated To
James H.Overpeck, Class of 1966, Viet Nam War June 4, 1967
Darrell Wayne Cottrell, Class of 1965, Viet Nam War May 4, 1968
James H. Overpeck RHS 66 Darrell W. Cottrell RHS 65
Jim and Darrell are both buried in Rockville Memorial Gardens
Statistics off the Vietnam Memorial Wall

"Carved on these walls is the story of America, of a continuing quest to preserve both Democracy and decency, and to protect a national treasure that we call the American dream." ~President George Bush

SOMETHING to think about - Most of the surviving Parents are now Deceased.

There are 58,267 names now listed on that polished black wall, including those added in 2010.

The names are arranged in the order in which they were taken from us by date and within each date the names are alphabetized. It is hard to believe it is 36 years since the last casualties.

Beginning at the apex on panel 1E and going out to the end of the East wall, appearing to recede into the earth (numbered 70E - May 25, 1968), then resuming at the end of the West wall, as the wall emerges from the earth (numbered 70W - continuing May 25, 1968) and ending with a date in 1975. Thus the war's beginning and end meet. The war is complete, coming full circle, yet broken by the earth that bounds the angle's open side and contained within the earth itself.

The first known casualty was Richard B. Fitzgibbon, of North Weymouth, Mass. Listed by the U.S. Department of Defense as having been killed on June 8, 1956. His name is listed on the Wall with that of his son, Marine Corps Lance Cpl. Richard B. Fitzgibbon III, who was killed on Sept. 7, 1965. Altogether, three sets of father/son names appear on the Wall.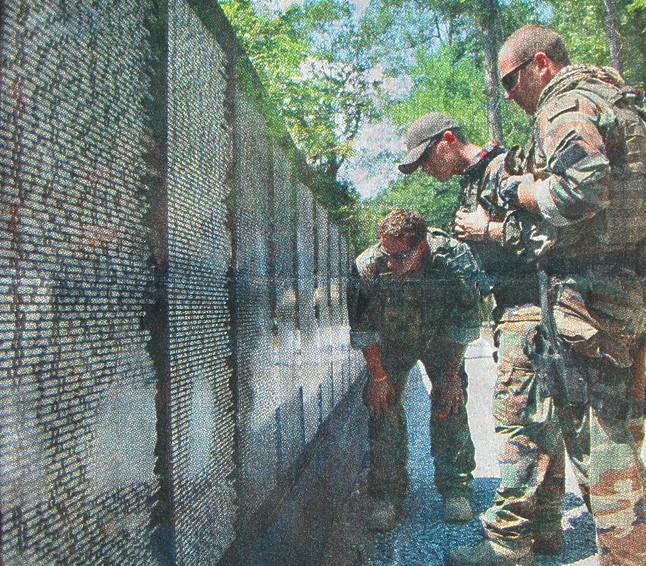 · There are three sets of fathers and sons on the Wall.
· 39,996 on the Wall were just 22 or younger.

· 8,283 were just 19 years old.

33,103 were 18-years-old -- The Largest Age Group.

· 12 soldiers on the Wall were 17-years-old.

· 5 soldiers on the Wall were 16-years-old.

· One soldier, PFC Dan Bullock was 15-years-old.

· 997 soldiers were killed on their first day in Vietnam .

· 1,448 soldiers were killed on their last day in Vietnam .

· 31 sets of brothers are on the Wall.

· Thirty one sets of parents lost two of their sons.

· 54 soldiers on the Wall attended Thomas Edison High School in Philadelphia. I wonder why so many from one school.

· 8 Women are on the Wall. Nursing the wounded.

· 244 soldiers were awarded the Medal of Honor during the Vietnam War; 153 of them are on the Wall.

· Beallsville, Ohio, with a population of 475 lost 6 of her sons.

· West Virginia had the highest casualty rate per capita in the nation. There are 711 West Virginians on the Wall.


· The Marines of Morenci - They led some of the scrappiest high school football and basketball teams that the littleArizona copper town of Morenci (pop. 5,058) had ever known and cheered. They enjoyed roaring beer busts. In quieter moments, they rode horses along the Coronado Trail, stalked deer in the Apache National Forest . And in the patriotic camaraderie typical of Morenci's mining families, the nine graduates of Morenci High enlisted as a group in the Marine Corps. Their service began on Independence Day, 1966. Only 3 returned home.

· The Buddies of Midvale - LeRoy Tafoya, Jimmy Martinez, Tom Gonzales were all boyhood friends and lived on three consecutive streets in Midvale, Utah on Fifth, Sixth and Seventh avenues. They lived only a few yards apart. They played ball at the adjacent sandlot ball field. And they all went to Vietnam . In a span of 16 dark days in late 1967, all three would be killed. LeRoy was killed on Wednesday, Nov. 22, the fourth anniversary of John F. Kennedy's assassination. Jimmy died less than 24 hours later on Thanksgiving Day. Tom was shot dead assaulting the enemy on Dec. 7, Pearl HarborRemembrance Day.

· The most casualty deaths for a single day was on January 31, 1968 ~ 245 deaths.

· The most casualty deaths for a single month was May 1968 - 2,415 casualties were incurred.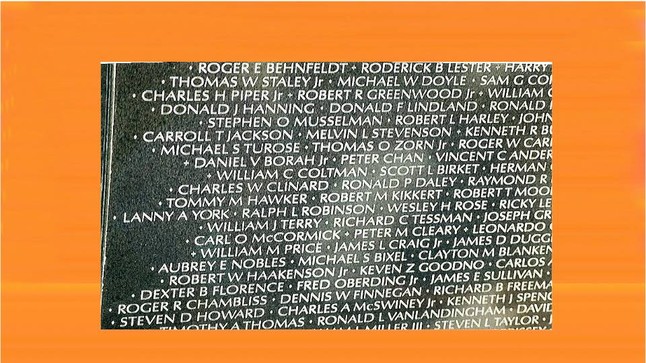 For most Americans who read this they will only see the numbers that the Vietnam War created. To those of us who survived the war, and to the families of those who did not, we see the faces, we feel the pain that these numbers created. We are, until we too pass away, haunted with these numbers, because they were our friends, fathers, husbands, wives, sons and daughters. There are no noble wars, just noble warrior
It is our desire is to honor all former RHS students and alumni who made the ultimate sacrifice while serving in the United States military forces in uniform. Please contact us if there are other former RHS students or alumni who deserve to be placed in this memorial along side their brothers/sisters in uniform.
MAY GOD BLESS THEM AND MAY THEY FOREVER REST IN PEACE, IN GODS NAME WE PRAY, AMEN
---
The Angel Flight
---
Parke Heritage High School - Purple Star
Parke Heritage, and Rockville and Turkey Run Military Alumni, active or retired, I know there are many of you...please email your formal military picture to Sheryl McDaniel at mcdaniels@ncp.k12.in.us, so that we can recognize you on our "Purple Star Page" and social media, and also in a display at PHHS. A relative can also email the picture with their name, service branch and rank.
We love you! Thank you for your service and sacrifice for our country, to live free and safe!
Dwight Ashley, Parke Heritage High School principal
8/21/20
Parke Heritage High School is proud to be among the inaugural schools to receive the Purple Star designation by the Indiana Department of Education. This designation honors schools who display a commitment to service members, veterans and their families.
"Honoring our country's military has always been a part of my life and family," said Mr. Dwight Ashley, Parke Heritage High School principal. "This is the least we can do for those Wolf Pack students that choose to sacrifice and serve our country, and to also honor alumni that have served."
In its first year, schools had to meet specific requirements to receive the Purple Star school designation. These include, assigning a point of contact for military families, passing a resolution supporting military students and families, guaranteeing interviews for service members and their immediate family who meet the minimum job qualifications, and more. In total, 60 schools received the inaugural designation.
Mrs. Sheryl McDaniel, counselor at Turkey Run Elementary and Parke Heritage High School, is serving as the point of contact for the school. To become the contact person, she had to complete specific training regarding military families and how to support children of military families. This included learning about military culture and specifically becoming a resource for military students. The educational training also discussed the commitment schools can provide service members, veterans, and their families; specifically our students.
A resolution was passed by the school board at the May meeting. This resolution is part of the requirements to become a Purple Star school.
"I am excited to be a part of the Purple Star School Designation. My sister and brother-in-law are both active in the Air National Guard and I have aunts, uncles, and a father-in-law who have served our country. Veterans and current service members deserve recognition for their sacrifices made to serve and protect our country," said Mrs. McDaniel.
A special page on the high school website has been established to recognize our military alumni. The page is located at this link: https://phhs.ncp.k12.in.us/news/purple_star_school
"We are hoping to expand our Purple Star webpage by having alumni provide names of Turkey Run High School and Rockville High School alumni who have served our country," said Mrs. McDaniel. "The community is also welcome to scan a photo along with the name of the veteran and email it to mcdaniels@ncp.k12.in.us. This will allow us to update the Purple Star webpage to include alumni."
You must be a member to submit this survey. If you are a member please log in first. You can't submit this form until you've logged in.
1)
Have you visited the Viet Nam Wall?

Yes No